Make Your Dream of Homeownership a Reality!
Paramount Residential Mortgage Group Inc. (PRMG) has continued to be a top leading lender in the mortgage industry. As a privately held mortgage company and residential home lender, PRMG has successfully helped many borrowers purchase and refinance their homes throughout the United States.
HOW TO GET STARTED
Become a Homeowner! Here are three things you need to get a home loan.
1. DOWN PAYMENT
Can be as low as 3%. Zero Down and Down Payment Assistance options available.
2. PROOF OF INCOME
Verify your income by providing your lender with recent W2's, Pay Stubs, or Tax Returns.
3. CREDIT
If you have a low credit score, no problem! We have options to assist with low credit scores.
OUR PROCESS
PRMG is dedicated to assuring we assist in providing you with the best service and creating a memorable experience. We want to make your home buying experience easy.
BUILDER PREFERRED
Our builder team of experienced mortgage professionals are here to serve you. We understand the necessity of present products and the modern buyer. Along with our immense vault of products, PRMG is willing to acquire new products that are in demand. Our objective is to further obtain a higher capture rate of approved buyers for you.
FIND A BRANCH
PRMG has branches nationwide. Find a PRMG branch in your area today and one of our professional Loan Officers will be there to provide you with excellent service.
REVERSE MORTGAGE
A Home Equity Conversion Mortgage (HECM), also referred to as a Reverse Mortgage, is a type of home equity loan that allows you to convert a portion of your home's value into Tax-Free cash while you retain homeownership. Reverse mortgages work like traditional mortgages, only in reverse. Rather than making a payment to your lender each month, the lender pays you.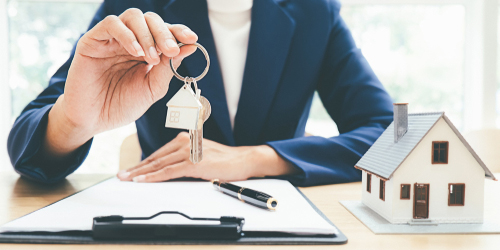 FHA
An FHA home loan is a mortgage insured by the Federal Housing Administration. These mortgages are backed by the federal government, which helps FHA-approved lenders extend home financing to buyers who are unable to qualify for a conventional home loan..
VA
A VA loan is a mortgage guaranteed by the U.S. Department of Veteran Affairs. VA loans are designed to help active duty military and veterans qualify for homeownership. They offer lower interest rates and better terms than conventional mortgages, and are offered exclusively to service members and certain military spouses.
CONVENTIONAL
The majority of home loans are processed with a conventional loan. Although conventional loans are not insured or guaranteed by the government, they follow guidelines set by Fannie Mae and Freddie Mac, two large publicly traded corporations (agencies) formed by Congress to purchase the loans that lenders make.
See what Customers are Saying about PRMG!
GET A QUOTE!
"We are excited about the opportunity to assist you"
WE JUST NEED A LITTLE INFORMATION.
By providing your contact information and Clicking Submit, you agree to our Privacy Policy and also expressly consent to Paramount Residential Mortgage Group Inc ("PRMG") and its network of partners to deliver or cause to be delivered to you (including through agents and authorized third parties) telemarketing promotions for products or services by telephone or text ( including automatic telephone dialing system, prerecorded voice or artificial voice) to the residential or cellular telephone number provided even if the telephone number is on a corporate, state or national Do Not Call registry. If you have a provided a cellular telephone number, you represent that you are the wireless subscriber and have the authority to give this consent. Consent is not a condition of purchasing goods and services. Msg & Data rates apply.