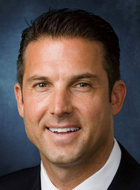 Baron O'Brien

PRMG National Business Development Manager
Baron's extensive knowledge of the mortgage industry over his 30-year career has made him one of the most sought after recruiters in the business and landed him on Mortgage Executive Magazine's Top 100 Most Influential Mortgage Executives list in 2013. As 2019 is expected to be another big year of growth, the company is excited to see what O'Brien has in store this year.
After graduating from USC's School of Business in 1989, O'Brien entered the industry as a loan originator. After just one year in the business, he was named Rookie of the Year at Plaza Funding and three years later was asked by Todd Duncan to speak at his first Sales Mastery event in Palm Desert. O'Brien's practices as an originator inspired the national best-selling book, The High Octane Loan Originator by Brett Figueroa, which still serves today as a training guide for new loan originators.
In 2001, O'Brien switched gears and transitioned into the training, recruiting and business development side of the industry. He believed that making the switch between the two allows him to stay fresh and help talented originators make the most of their careers in the best company for them. His focus has been on talent acquisition for 18 years. O'Brien was pursued by many other mortgage companies, but when asked why he chose PRMG, he said the choice was simple.
"Being privately owned with an entrepreneurial environment, successful leadership and a proven track record, it's the perfect place for a loan originator to succeed. With efficient processing, underwriting and a streamlined origination system, you couldn't ask for anything more."  – Baron O'Brien